by Chris Johnson
Becoming a foster parent is truly one of the most selfless things an individual can do. When my wife and I joined the ranks, I do not think we even considered what we might get out of the adventure. We knew that God was calling us to give of ourselves for the sake of children in need. Our focus was on how we could better their lives and help them know that they are loved and treasured by God. Looking back, there were so many things we did not understand about how God would use this ministry, not only in the lives of those we would touch, but sometimes more emphatically in our own lives. The calling to foster care and adoption totally changed our lives. We have been blessed in countless ways through the faith decision to answer this call. 
Foster parenting has expanded my perspective.
Every individual struggles with limited perspective. So often our world is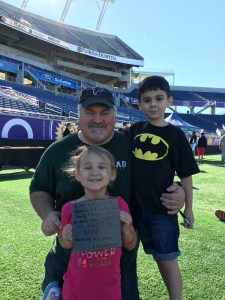 very small. Before becoming a foster parent, I did not really understand the struggles of those who deal with mental health issues, addictions, and the lack of positive family support. While I had heard of these things and was somewhat aware of their effects, diving into the world of child welfare expanded my understanding of how these issues affect so many children and families. I am thankful for my upbringing, but I now have a greater awareness of the needs of those around me. If it were not for the grace of God, I could be in the same situation with the same struggles. I now see people differently and am better able to empathize with them while providing support and encouragement. 
Foster parenting has provided opportunities for me to be stretched and challenged.
Being a foster parent is not easy. This calling comes with its own unique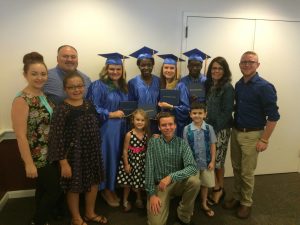 set of trials. I have experienced pain and struggles on this journey, but that has only made me a stronger individual: a better husband, father, and man. We know that God uses the trials of this life to mature us and grow us into what He wants us to become.
"Count it all joy, my brothers, when you meet trials of various kinds, for you know that the testing of your faith produces steadfastness. And let steadfastness have its full effect, that you may be perfect [mature] and complete, lacking in nothing."
 James 1:2-4
Without adversity, we do not grow. Foster parenting has provided wonderful growth opportunities.
3.  Foster parenting gives me a front row seat to seeing lives changed.
What a joy it is to see a child who entered your home broken, hurt, and hopeless begin to understand his worth and value. As he sees that his life has meaning and purpose, he experiences healing and begins to dream again of what he can do and the difference he can make in the world. As a foster parent, I have been able to see this transformation over and over again. While this change does not always occur while  the child is in my home or in a way that I can clearly see, I am blessed to know that the love and care I pour into his life will be remembered and will make a difference in him.
4.  Foster parenting provides the ability to impact multiple generations.
So many children enter foster care due to their parents not being properly equipped to provide for their family. We often see generational struggles that have been passed down for years. As a foster parent, I have the opportunity to help break these unfortunate cycles. Not only do I get to love and support the child in my care, but I get to partner with his biological parents to help them understand his needs. While not every parent gives us this opportunity, it is such a blessing to be able to get to know and help those who are open to assistance and encouragement. As my wife and I help guide the parents in making better choices, and as we come alongside the family to provide ongoing support, we are able to increase the probability that this family will be healthy and will be in a better position for future success. This can have lasting implications for the child, for his future family, and for society.
The journey of foster parenting is an amazing one. The more you pour into others, the more you receive. The more you invest in the lives of children and families, the more return you will see on your investment.
"Give, and it will be given to you. Good measure, pressed down, shaken together, running over, will be put into your lap. For with the measure you use it will be measured back to you." Luke 6:38
What can you give that will change the life of a child?
Are you ready to increase your investment and reap the incredible benefits?
Please feel free to contact me or someone on the Kids Central team to find out how you can begin this journey today. There is a child and a family that is waiting for you to pour into them in a way that will change their lives forever.
Facebook: www.facebook.com/chrisjohnsongt
Twitter: @chrisjohnsongt
Instagram: @chrisjohnsongt
Blog: www.chrisjohnsongt.com