Kids Central's Kinship Care Program offers case management services along with Support Groups in our 5-county area, Marion, Lake, Sumter, Citrus and Hernando Counties. Support Groups offer a safe place for the caregivers to take a moment to breathe in and allow them time to understand and embrace their role as a relative caregiver. Our groups allow the caregiver to connect with and share their experiences with other relative caregivers raising their relative children. It is a place for the caregiver to gain additional support from others and find out about community resources that would be beneficial to them and their relative children.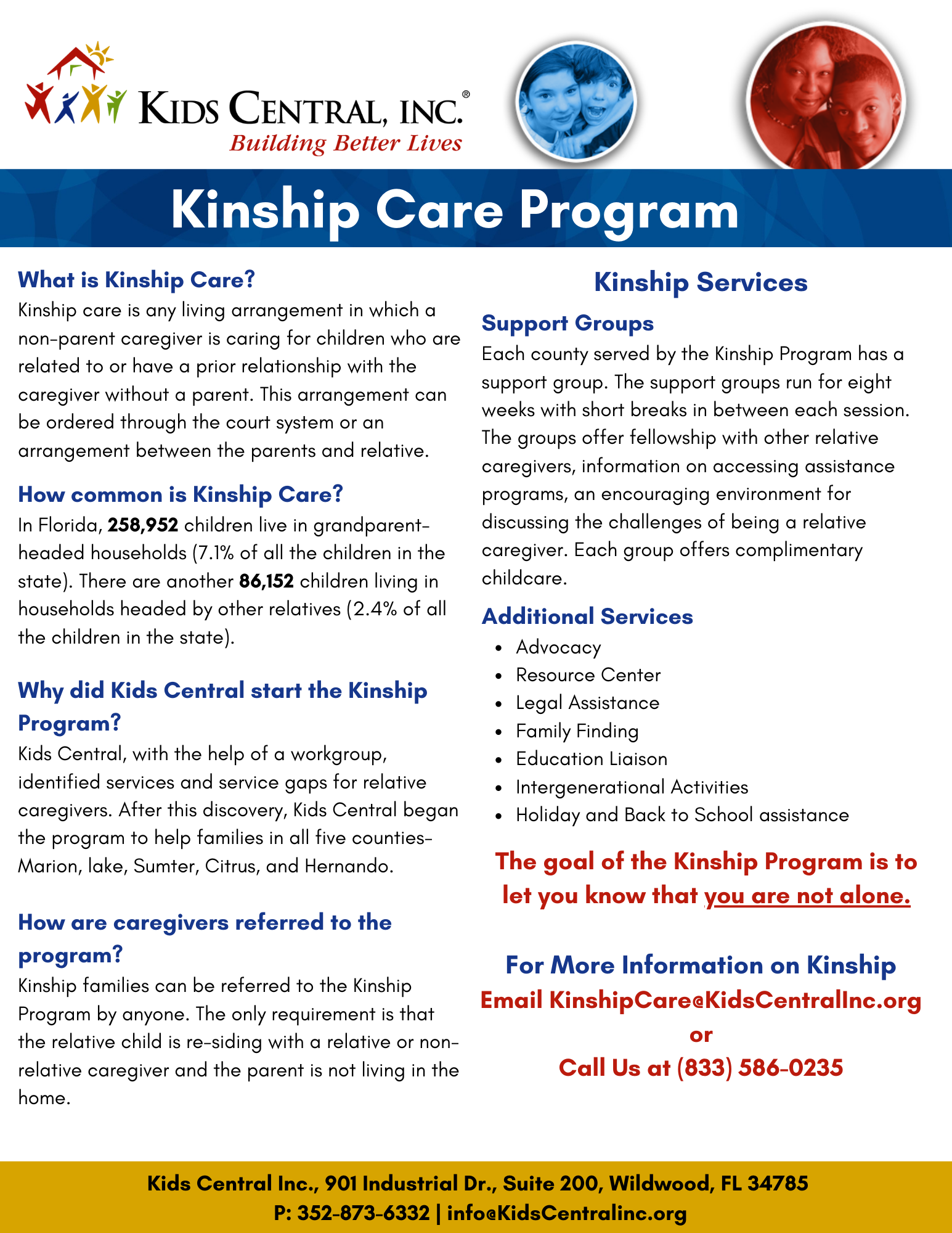 Nearly 355,000 children in Florida (7.1% of all children in the state) live in grandparent-headed households, and another 122,000 children live in households headed by other relative caregivers. The children living in nearly 45% of these Kinship Care households do so without the presence of either parent (2014 Grand FactSheets, AARP/ Brookdale Foundation Group/Casey Family Programs/ CWLA/ Children's Defense Fund/Generations United).
To meet the needs of the over 14,000 children cared for by relatives in Circuit 5, a comprehensive Kinship Program was created. Kids Central's Kinship Care support services are part of multi-level prevention programming designed to keep children with family members in safe, nurturing homes. Kinship families are served in and out of the formal child welfare system. The program continues to evolve to meet the needs of families in relative care settings.
Since the Kinship Program's conception, it has been successful in diverting over 98% of its participants out of the child welfare system. Currently, the Kinship Program provides the following services:
Kinship Care
Case Management – Kids Central Inc. assesses the needs of the Kinship family and determines how to best support the family. Case management services involves a home visit and various assessments with the caregiver and the child(ren) to discuss the current situation and determine how the Kinship Program can assist the family. The case manager can support the family in applying for ACCESS Florida benefits, navigating the court or school system, and providing relatives with referrals for services in the community.
Support Groups –The support groups cover topics such as parenting the second time around, navigating the school system, legal issues, self-care, money management, community resources and trauma. Mileage reimbursement and childcare are provided for all relatives who attend our groups.
Continuation Groups – Upon graduating from support groups, caregivers are encouraged to keep connected to the Kinship Program and the other caregivers they have met during their support group time. The Continuation Support Groups occur once a month and are facilitated by Kids Central Kinship staff. Topics are chosen based on the area of needs the caregivers have expressed interest in learning more about. At times, guest speakers are brought into the support groups to educate and share with caregivers. Free childcare is also provided at the support group meetings, this assists in providing respite for the caregivers.
Peer to Peer Connections – Kids Central's Kinship Program encourages caregiver to develop peer relationships. Caregiver's often learn and feel comfortable sharing their personal experiences with other peers who have encountered similar situations of raising their relative children.
Legal Services– Kids Central Inc. provides free legal services to relative caregivers; legal services are only rendered if the caregivers are actively participating in the program and meet the qualifying guidelines as determined by Kids Central. The legal services encompass temporary custody, adoption, power of attorney, along with wills and trusts.
Intergenerational Activities – Intergenerational recreational activities are provided for caregivers and the children and youth for whom they provide care. These activities are chosen to facilitate communication between the caregivers and the children for whom they care.
Resources– Kids Central operates a Family Resource Center. We are able to provide kinship families with food, clothing, and household items, based on availability of items.
ACCESS Florida Website: https://dcf-access.dcf.state.fl.us/access/index.do