During its third annual Casino Royale-Vegas Baby! fundraiser on May 5th, Kids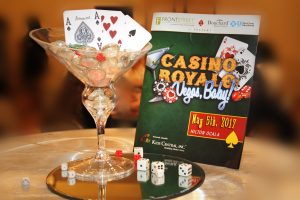 Central brought the fun and excitement of Vegas casino games to the ballroom in the Ocala Hilton. Complete with the iconic Welcome to Vegas sign, there was a hint of that classic vintage Vegas style throughout the room and crowd.
The event included a complimentary cocktail hour courtesy of Tito's Handmade Vodka and sponsors, Boyd Real Estate Group, Florida Horse Park, Galloway Realty, and Verteks Consulting; a PixelPro inflatable cube photo booth; an impressive hor d'oeuvres buffet; and action packed casino style games by Casino Party Planners. The doors to the ballroom opened at 7:30 pm revealing a room full of casino games, where Elvis made his grand appearance. Elvis, Steve Greer, energized the event and crowd by performing Elvis' classics and interacting with the guests.
A cross section of Ocala's movers and shakers came dressed to impress in suits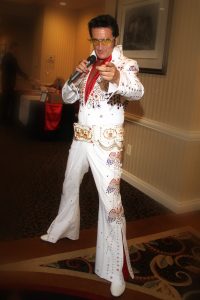 and sparkling dresses playing the games all in the name of a good cause: the local abused and neglected children. Kids Central cares for these vulnerable families in five counties, Marion, Citrus, Hernando, Lake and Sumter Counties. Funds raised help Kids Central meet the unfunded needs of families. For example, purchasing yearbooks for seniors, putting a mother of two up in a hotel for a night, helping a father get his GED, and extracurricular activities for the kids.
As of April 2017, there were 644 children (258 in Marion County) in licensed foster care, 867 (315 in Marion County) in approved care (with a relative or non-relative) and 690 (292 in Marion County) being served in their homes. In 2016, 4,470 child abuse reports were investigated involving 7,338 children in Marion County alone. 36% of Marion County child abuse was due to substance misuse and 33% involved domestic violence.
Kevin Sheilley, CEP CEO and Kids Central board member, explained, "Donation dollars to Kids Central give the organization the ability to provide childhood experiences to kids who have experienced abuse, neglect or abandonment through no fault of their own. These unrestricted funds can also be used to give parents and caregivers the help they need to care for their children safely."
The event would not have been possible without its Platinum Event Sponsors, Front Street Commercial Realty and Bouchard Insurance in partnership with Blue Cross Blue Shield, and its impressive list of other local business sponsors and prize donors.
Nicole Pulcini Mason, Director of Community Affairs for Kids Central, said,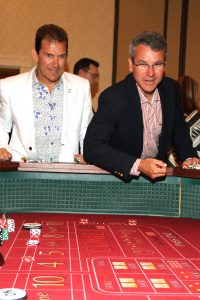 "Casino Royale is an exciting evening; however, it's important to remember that we do this for the kids, and without our sponsors it wouldn't be possible. Our dedicated supporters allow us to give children and families what they need which aren't covered by any other funding."
At the end of the night, the gamers turned their winnings in for raffle tickets to use in an effort to win fabulous prizes. Prizes included Adena golf outing for four, a Trilogy at Ocala Preserve golf and dinner package, a Yeti cooler donated by Gold and Associates, and up to 15 square feet of granite to redo a bathroom countertop provided by Schofield, Inc.
After the evening was over and it was time for the guests to go home, many expressed how much fun they had, how they couldn't wait until next year, and that they didn't want to leave yet. The air was a buzz. When it was all said and done, Kids Central brought in over $35,000. Special thanks to sponsors: Front Street, Bouchard/BCBS, Verteks, Boyd, Florida Horse Park, Gus Galloway Realty, Ocala Style, Akers Media, CBC National Bank, Dr. Michael Jordan, David DeStefano, Deluca Toyota, Sumter Sheriff, Radiology Associates of Ocala, Scott Caldwell, MindShare, BB&T, Gateway/Center State Bank, Quick Care Med, Youth and Family Alternatives, Zone Health and Fitness, Angie Lewis State Farm, BBVA Compass, Signature Brands, The Floor Shoppe, Gail Burry, Acclaim Strategies and everyone who contributed prizes.
Fundraising dollars are used to meet the needs of the families we serve in ways that our contract with the Department of Children and Families will not allow us to. For example, when a grandmother ends up with her three grandchildren and the mother isn't around, Kids Central can use fundraised dollars to purchase school uniforms, repair her oven, or allow the children to participate in extracurricular activities. The money can be used to help any family we are working with, whether they are being served through a community prevention program or are in foster care. Kids Central netted approximately $20,000 with Casino Royale.