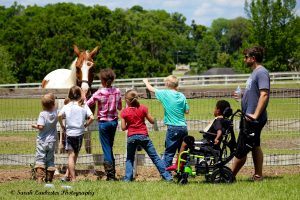 As of today, the Marion Therapeutic Riding Association has worked with over 30 children who are living in foster care. The program provides a recreational and therapeutic activity allowing children to build relationships, confidence, leadership, self-esteem and many other life skills through a relationship with a horse. This is accomplished through once a week hour sessions that are sometimes in a group setting and sometimes privately.
It is amazing to see the bond develop between the children and the horses. Children who come to the barn start out with a little fear and doubt. They have suffered great loss, and they question if they should build bonds with people or animals for fear of another broken heart. It takes very little time for them to bond with their horses. As they return each week, the joyful sounds of their voices are so inspiring to the MTRA staff. The barn fills with laughter, hope and a sense of belonging and love.
There are so many success stories it is hard to share only one, because they are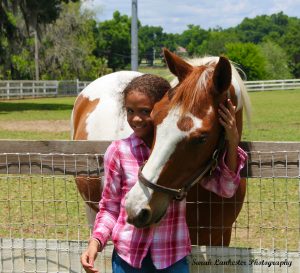 all very special. One session involving two girls, who both struggled with a lot of relationship issues and lack of self-esteem, experienced a very special moment. The girls were riding bareback (without a saddle), intending for them to feel the horse underneath them and learn better balance and movement with their horses. The girls did very well. Taking the lesson a step further, the girls were instructed to lay down on their horses. It was explained to them that the horse would be able to feel their heartbeat and how it is said that a horse's heartbeat will be in sync with yours. They both laid down, shut their eyes, and started to fall asleep. They were allowed to lay there for a while, and then they were asked to sit up. With tears in their eyes, they shared how they had never felt so loved and understood as they do by their horses. It brought goosebumps to everyone, and seeing the peace in their faces, would never be forgotten.
The girls' behavior, social skills and school work have improved since their
involvement with the program. Marion Therapeutic Riding Association relies on the input of the foster parents and caregivers to report back on the children's improvements. Even if the children are only given a moment of success and the feeling of love, caring, healing and compassion, it is something they will carry with them throughout their life. This program provides a lot of value to the youth in foster care, and MTRA hopes to continue to carry on and spread the word about how valuable it is.

The EQUINEXPERIENCE program provides foster youth the opportunity to participate in a continuum of equine related activities and therapeutic programming tailored to their individual needs, including Therapeutic Horseback Riding, Equine-Facilitated Experiential Learning, Groundwork and Caring of the Animals, and Equine-Facilitated Psychotherapy.
Equine activities through the program is available across Florida at 30 Professional Association of Therapeutic Horsemanship International (PATH Intl.) equine facility members.