Kids Central Ink June 2018 – Reunification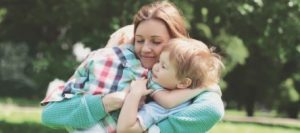 June is National Reunification Month, a time to reflect on countless parents who struggle to reach a place where they can be reunified with their children who have been removed from their home.  Whenever possible, "reunification" is the primary goal at Kids Central.  We never underestimate the hard work and life-changing transformation that sometimes must occur in order to celebrate a family's resiliency.
"I wouldn't let them in and they pounded on my door for about 45 minutes….My baby was sleeping and I just laid in bed with him and held him because I knew what was coming."
A young mother speaks of the heart-wrenching story of the day her child was removed from her care and placed in foster care.
Long-time Kids Central Board Member, Retired Judge Stephen Spivey, often speaks of his time on the bench in Dependency Court. "We ask these parents to accomplish quite a lot in a very short time."  While some might think that a year would be plenty of time to demonstrate that someone is capable of taking care of their own children, parents who have their children removed are at a low point in their lives. At a time when everything in their life is dysfunctional, they must first successfully complete their case plan before they can be reunified with their child(ren).  With substance abuse being the leading cause for removal, a case plan usually consists of parents getting off drugs (which has been their way of coping with life) while being subject to random urinalysis, an array of classes in substance abuse and addiction, parenting, domestic violence and anger management.  We require them to be engaged in full-time employment and to secure safe and stable housing.  All the while they are subject to mental health evaluations and assessments while they may even be dealing with legal issues and in some cases, concurrent planning for adoption is also underway.
In short, we ask for the parents to give their best when they are at their worst.  Our number one goal will always be reunification and when parents, foster parents, service providers, courts, GALs, advocates, family members and friends all work to support the common goal, positive outcomes prevail and children are reunified with their parents.
Jordan's Story
Kylee came into care on April 24, 2015 due to substance abuse and inadequate supervision because she had missed so much school.  Her mother, Jordan, was not cooperative at first.  She fought every step of the way.  She became pregnant and gave birth to her second child in January, 2016. The newborn was also removed an placed in foster care.  Shortly thereafter, Jordan was arrested.  The Judge considered and granted the Family Care Manager's request that Jordan to go into residential treatment.  Jordan entered the Oasis Program and completed it successfully.   
Jordan followed her residential treatment with an Intensive Out Patient Program and continued to make progress towards reunification. There were some stumbling blocks with getting housing, but Jordan worked with United Way and they were able to assist her with the initial cost that comes with getting an apartment.   
After all that hard work Jordan was reunified with her oldest daughter, Kylee, on February 26, 2018.  Kylee has been back home for over 3 months and things are going well. Jordan is now working on being  reunified with her youngest daughter, which is complicated due to her daughter's special medical needs, however Jordan is learning to care for her daughter and meet her special needs. Jordan has come a long way in the last 3 years. She realizes that she was never really a mother to Kylee when she was in active addiction and that she was more of a "friend."  She now has to do a lot of hard work to get Kylee to understand that she is not the same person and will not just let her do whatever she wants. Jordan is teaching Kylee that rules and boundaries to set to protect her and keep her safe. Jordan spoke of the guilt she has for letting her situation go on as long as it did before her eyes finally opened to what she was doing to her children.   
As with some cases, Jordan did relapse. She talks about her relapse and never makes excuses. She explained why she felt the need to use and takes full responsibility for taking the step to use again. Since the relapse, Jordan opened her heart to additional in-home services and did not let the relapse bring her down. She realizes that she is stronger than she thought. She does not let the past define who she is, but lets it give her the drive and motivation to be better.  
Kids Central is proud to tell Jordan's Success Story!  Keep up the good work, Jordan!